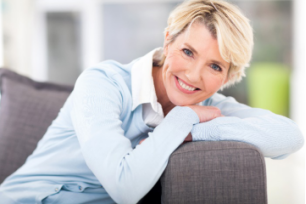 For all women, they know that there is a massive change looming in their future—menopause. As you age, your menstrual cycle will eventually stop, usually around that age of 51. This biological process can cause several physical symptoms due to the changes in your hormone levels. Over time, it can impact your quality of life as you suffer from energy loss and emotional changes. To overcome the changes, hormone therapy in Dallas can help.

Signs of Menopause
The signs of menopause usually occur gradually as hormone levels in your body change. They can take various forms, including:
Irregular periods
Vaginal dryness
Hot flashes or chills
Night sweats
Sleep difficulty
Mood changes
Weight gain or slowed metabolism
Dry skin
Thinning hair
Loss of breast fullness
Although the changes are natural, they can decrease how you feel throughout the day. Over time, they can begin to impact your daily life. You can restore your hormone levels to improve your overall well-being with hormone therapy.
Hormone Therapy
Often, synthetic hormones are used to rebalance levels in the body. While they may be effective, they are not naturally-occurring substances. As a result, they do not align with our body's natural chemistry and pose certain risks. As an alternative, many are now turning to bioidentical hormone replacement therapy.
Unlike conventional treatments, bioidentical hormones are naturally-occurring substances that are made by professional pharmacists. They are completely natural and cater to your specific needs. They will closely mimic the hormones that your body produces to allow them to be absorbed and used in a way that nature has intended.
Now, there are various types of bioidentical hormones that can be used to treat the specific issues that you are having, such as decreased energy, vaginal dryness, or metabolism issues. Depending on your individual needs, you may benefit from:
Pregnenolone
Dehydroepiandrosterone
Progesterone
Estrogen
Testosterone
Thyroid
Melatonin
Your hormone treatment will be carefully crafted by your physician after performing an initial consultation. After identifying the issues that you are having and understanding your goals, a customized treatment plan will be created to rebalance your hormone levels. In addition to hormone therapy, changes to your lifestyle can help as well, such as stress management techniques or exercising.
Improve Your Quality of Life Today
You cannot avoid menopause, but that does not mean that you must live with the complications of the changes. You can restore your quality of life with a natural option. Contact your doctor today to learn more about bioidentical hormone therapy.
About Dr. Connie Casad
Dr. Connie Casad is board-certified in obstetrics and gynecology to improve the overall well-being of her patients. She embraces the latest innovations and natural therapies to promote her patients' quality of life. With more than 30 years of experience, she understands the issues women face, especially as they get older. If you are reaching menopause, she can help you overcome the complications of lower hormone levels. Contact Park Cities Aesthetics today to schedule your consultation for bioidentical hormone replacement therapy.