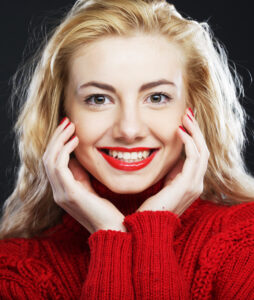 If you're starting to look your age, now is the perfect time to treat yourself to an anti-aging treatment. Dr. Connie Casad provides a variety of elective solutions to help her patients look and feel their best. This month, it's easier and more affordable than ever to try FotoFacial and our wrinkle reduction treatment using botulinum or Dysport. You can enjoy one of the treatments for a limited time discounted rate to reveal a younger-looking appearance.
FotoFacial Skin Treatment
FotoFacial is a tried and true method to treat specific skin conditions, which is why it's among one of the most preferred treatments many years after it's release. Originally introduced by a Board-Certified Dermatologist, it improves skin texture without any downtime and it's noninvasive.
A special Intense Pulsed Light creates a series of gentle light pulses to specific treatment areas. The device can be customized for your skin type and coloration, which can be adjusted to maximize the results you achieve. It's recommended you have a total of 5 sessions every 3 weeks to reach your aesthetic goals.
Don't worry, there's minimal risk and little discomfort to significantly reduce fine lines, large pores, wrinkles, and sun damage. Overall, it's a safe solution for a noticeable change in your skin's appearance without surgery.
This month, you can enjoy FotoFacial and a chemical peel for only $200 per area That's a $100 savings. You can also choose to treat 3 specific areas for the price of 2 for only $400.
Wrinkle Reduction Injections
You can say goodbye to wrinkles for up to 6 months with botulinum. The injections have been used by neurologists since the 1980s because it's effective for temporarily paralyzing specific muscles. This allows it to provide a variety of medical benefits, but it can also be used for aesthetic purposes, which is why it's a popular choice to treat frown lines, crow's feet, and other deep wrinkles.
A simple injection will help your muscles relax and prevent them from contracting. This allows your facial wrinkles to become shallower to blend in with the surrounding tissue. For some patients, wrinkles can completely vanish. There's no recovery process or downtime.
You can treat your wrinkles using our buy 1 filler, get 1 area of Botox for free special. You can enjoy results that can last for several months to invest in your confidence.
Schedule Your Appointment Today!
If you're ready to benefit from one of our promotional offers, please mention where you saw the ad, such as our website or Facebook. We also ask you to bring in the ad or a copy of the special. The offer is only valid for one promotion per visit and it can't be combined with any other specials.
If you have a question or you're ready to schedule your appointment, contact our office today.
About Dr. Connie Casad
Dr. Connie Casad is Board Certified in Obstetrics & Gynecology. For over 30 years, she's made it her mission to help her patients look and feel their best. She provides personalized treatment plans to resolve certain esthetic concerns, like wrinkles and fine lines. She offers FotoFacial and wrinkle reduction to combat the signs of aging. Contact our office today to schedule an appointment.